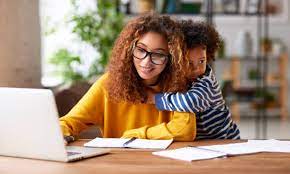 Navigating life as a single, entrepeneurial mum
Being a mother is a rewarding and demanding role in itself, but when combined with multiple jobs and doing it alone, the challenges can seem even more daunting. The modern working mum is a master of multitasking, gracefully balancing her professional commitments with the responsibilities of raising a family. In this blog post, we delve into the world of working mothers with multiple jobs, exploring their unique experiences, strategies for success, and the importance of self-care in this complex and fulfilling journey.
The Multifaceted Role of a Working Mama
A working mum with multiple jobs is often seen as a true marvel, seamlessly transitioning from one role to another with remarkable resilience. On one hand, she's a dedicated professional, contributing her skills and expertise to different ventures. On the other, she's a nurturing mother, tending to her children's needs, providing emotional support, and creating a loving home environment. Balancing these dual responsibilities requires careful planning, time management, and an unwavering determination.
Strategies for Success
Mastering Time Management: Working mamas with multiple jobs are time-management experts. They meticulously plan their days, allocating specific time slots for each job and family activity. Embracing productivity tools, such as calendars and to-do lists, can help streamline tasks and ensure that no important commitment is overlooked.

Setting Realistic Goals: These superwomen understand the importance of setting achievable goals. They prioritize tasks, focusing on what truly matters both at work and at home. By setting realistic expectations, working mums can avoid burnout and maintain a healthy work-life balance.

Delegating and Seeking Support: It's essential for working mums to recognize that they don't have to do everything alone. Delegating tasks to family members, hiring help when needed, and leaning on a support network can lighten the load and create a more manageable daily routine.

Flexible Work Arrangements: Many working mums opt for flexible work arrangements, such as remote work or flexible hours. These arrangements provide the freedom to accommodate both professional and family obligations effectively.

Self-Care as a Priority: Amidst the hustle and bustle, self-care often takes a backseat. However, working mums know that taking care of themselves is crucial for maintaining their physical and mental well-being. Whether it's a few minutes of meditation, a workout session, or simply some quiet time, self-care is non-negotiable.
The Importance of Self-Care
Being a working mum with multiple jobs can be demanding, but neglecting self-care can lead to burnout and exhaustion. When a mother is well-rested, emotionally balanced, and fulfilled, her ability to excel in both her professional and maternal roles is greatly enhanced. It's not selfish to prioritize self-care; it's an investment in maintaining the energy and positivity needed to be the best version of oneself.
Conclusion
The life of a working mum with multiple jobs is a journey of determination, sacrifice, and joy. It's a testament to the boundless strength that women possess as they navigate the complexities of modern life. By employing effective time-management strategies, setting achievable goals, and embracing self-care, these remarkable women continue to inspire us all. As we salute the multitasking marvels who seamlessly switch between boardrooms and playrooms, let's remember that their efforts contribute not only to their personal growth but also to the betterment of their families and society as a whole.